How it works for customers
Key Points
Every customer must have their own passcode which they have already purchased online via the app or website. The club will not receive an email or text notification about the purchase because customers can cancel or upgrade their pass at any time.
When the customer purchases a pass they are required to complete a Health Declaration in advance. You can see it when the code is redeemed or via the Partner Portal, Admin-PARQ section.
Your front-of-house must redeem the customer's passcode every time they visit the club as this is how the system knows that a visit took place. This will allow us to update the reports and prepare the invoices at the end of the month.
For Monthly+ passes, the 8-digit code will be the same each time they visit. Day Pass codes will change.
You can monitor the redemption rate of Day Passes on the Partner Portal. This metric is a proxy number based on a 30-day rolling period. Typically a good rate would be between 75% and 85%.
If you enter the code incorrectly more than 5 times, your ability to redeem codes will be blocked due to security reasons. Please contact helpdesk@hussle.com if you need help redeeming passcodes or unblocking your account.
PARQ - where can you see the customer's health declaration
1. On the redemption page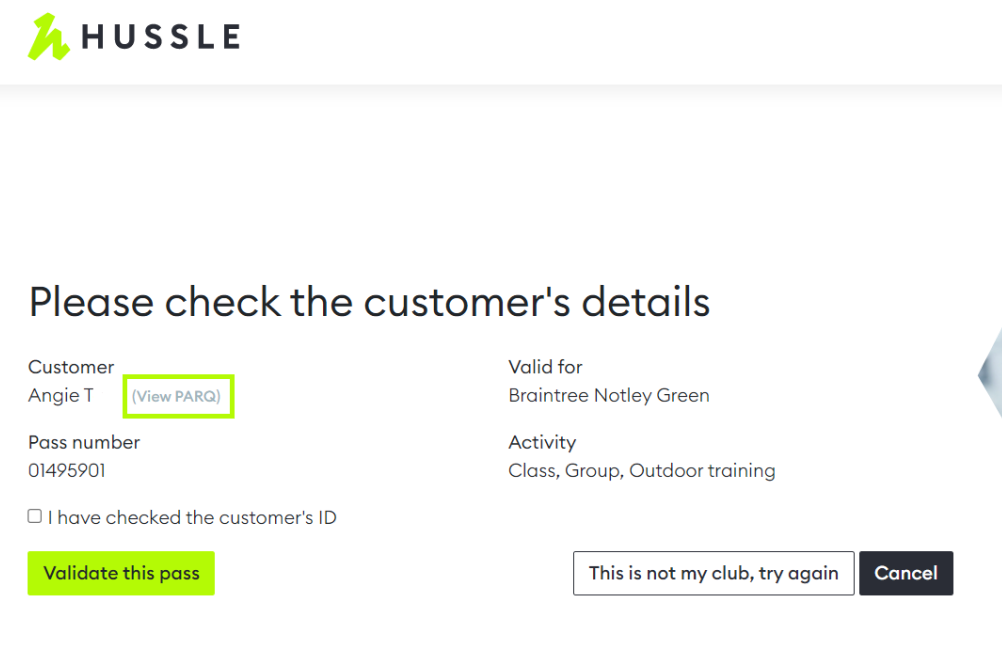 2. On the Partner Portal, Admin section